Test fields
Container Terminal Tollerort CTT
Ener­gy Car­ri­er: Hydro­gen
Equip­ment: Ter­mi­nal Trac­tor, Emp­ty Con­tai­ner Hand­ler, Stradd­le Car­ri­er, Forklift
Container Terminal Altenwerder CTA
Ener­gy Car­ri­er: Elec­tri­ci­ty
Equip­ment: Ter­mi­nal Trac­tor, AGV
Simulation
In col­la­bo­ra­ti­on with the Tech­ni­cal Uni­ver­si­ty of Ham­burg (TUHH), we are mode­ling and simu­la­ting logi­stics are­as in which hea­vy goods trans­port ope­ra­ti­ons take place. Our aim is to iden­ti­fy ways to decar­bo­ni­ze trans­port. This includes asses­sing ener­gy requi­re­ments and deve­lo­ping stra­te­gies for the use of hydro­gen and elec­tri­ci­ty. We also inte­gra­te real data from our test fields into the­se models, crea­ting a solid decis­i­on-making frame­work for com­pa­nies con­side­ring the use of such tech­no­lo­gies in their dai­ly operations.
Working Groups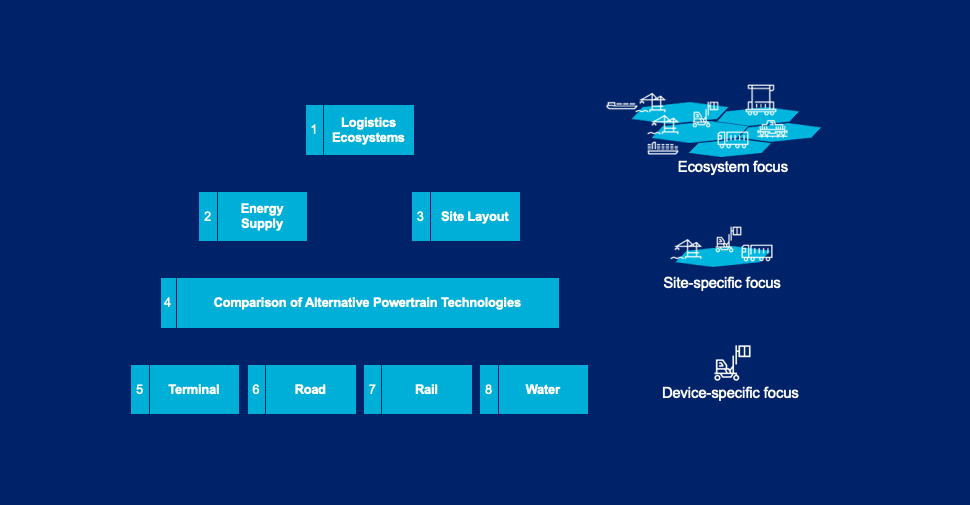 Click through the slider to find out more about our Working Groups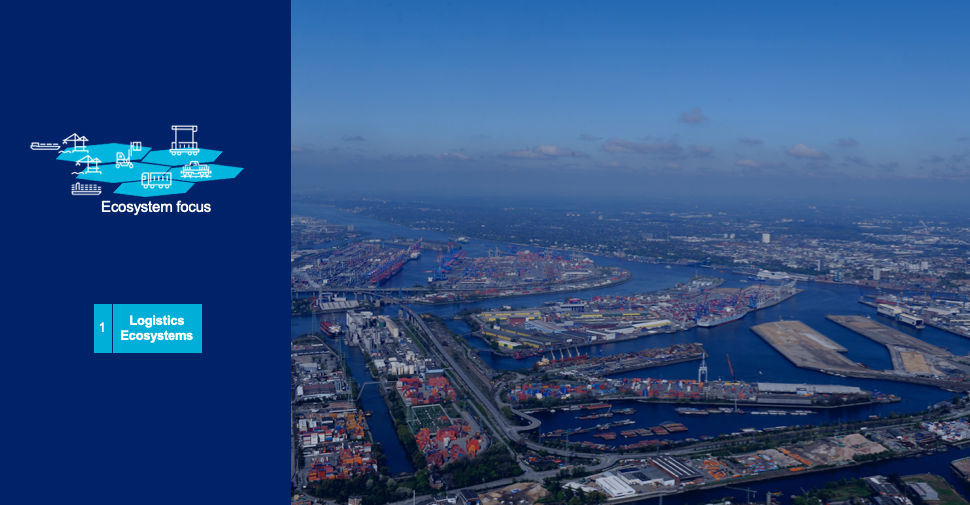 Within the working group WG1 Logi­stics Eco­sys­tems, the focus lies on addres­sing pivo­tal ques­ti­ons: What essen­ti­al frame­work con­di­ti­ons are neces­sa­ry to faci­li­ta­te a lar­ge-sca­le tran­si­ti­on to decar­bo­ni­zed are­as? This includes a con­cen­tra­ti­on on enti­re agglo­me­ra­ti­ons of sites and the for­mu­la­ti­on of poli­ti­cal proposals.
When choo­sing a tech­no­lo­gy, it is cru­cial to con­sider not just the device's avai­la­bi­li­ty and per­for­mance but also whe­ther the neces­sa­ry ener­gy can be sup­pli­ed. For ins­tance, WG2 Ener­gy Sup­p­ly and WG3 Lay­out address pivo­tal ques­ti­ons: Can the grid pro­vi­de the nee­ded amounts of green elec­tri­ci­ty for a fleet of bat­tery elec­tric vehic­les at cer­tain use cases? How must a sup­p­ly chains be desi­gned and ope­ra­ted to ensu­re the ope­ra­ti­on of a hydro­gen-powered fleet of hea­vy-duty equip­ment?
How will the tech­no­lo­gi­cal tran­si­ti­on affect ope­ra­ti­ons and fleet sizes? Moreo­ver, how will the logi­stics area's lay­out chan­ge in case of a switch? The­se fin­dings will be con­so­li­da­ted in WG4: Com­pa­ri­son of Alter­na­ti­ve Power­train Technologies.
What are the requi­red main­ten­an­ce inter­vals for fuel cells or bat­te­ries? What trai­ning and ins­truc­tions are neces­sa­ry for employees to ope­ra­te and main­tain the­se devices? And can the­se devices achie­ve the same level of pro­duc­ti­vi­ty as their fos­sil coun­ter­parts? The­se are some of the ques­ti­ons addres­sed by working groups five to eight. Each focus­sing on the cor­re­spon­ding moda­li­ty: WG5 Ter­mi­nal, WG6 Road, WG7 Rail and WG8 Water.